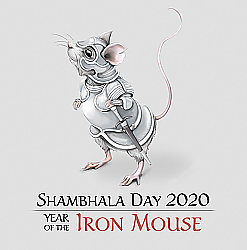 Shambhala Day: Year of the Iron Mouse
Please save the date of Monday, February 24 for Shambhala Day 2020.
Together, we will enter the New Year of the Iron Mouse and welcome its qualities of adaptability, cleverness, and contentment.
Practitioners of meditation see the start of each new year as an opportunity for a fresh start and a letting go of the habitual tendencies and patterns of the past. It is also a time for us to express the wealth and richness of our spiritual and cultural heritage through practicing, feasting and celebrating together.