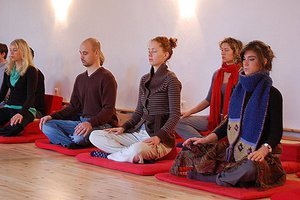 Young Meditators Group
The Young Meditators Group welcomes anyone in Austin between 18 and 39 who is curious about or committed to meditation and community. We insist that you come as you are - with lots of meditation experience or none, wearing sweatpants or a three-piece-suit, feeling talkative or quiet, upbeat or grumpy.
YMG
meets twice monthly to learn about and practice basic meditation techniques, to explore ways to apply mindfulness to our lives off the cushion, and to discuss our experience of the world with one another. We also go for an optional hangout after each meeting at a coffee shop or bar for snacks, drinks, and friendship.
Please join us at the Austin Shambhala Center on the first and third Thursdays of each month from 7-8:30 p.m. Suggested donation: $5.