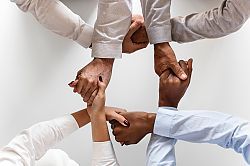 People of Color Meditation Group
When we medidate, we sit wrapped in our skin, showered or covered by our thoughts about our skins and the mutiple stories we believe (or not) about ourselves based on the intersections of our skin with the other dimensions of our humanity. But we are not the skin, nor the stories, nor just simply travelers on crossroads between cultures.
Basic goodness. When awake, we can begin to feel the softness, intelligence and clarity that we really are. And as we begin to feel who we really are, we can rejoin our open heart of bodhicitta and perhaps find ourselves in a place where we can better extend our compassion out to others.
This is a self and group exploration of how we have been affected by race and ethnicity or any other aspects of our being that serve to construct or build our identity. This is an exploration within our Shambhala home, for people who self identify as people of color.
For questions or further information please contact Christopher Longoria.