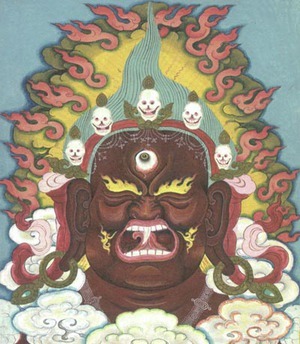 Protector Principle
with Billy Boyar & Lynette Melnar
In this program we will explore, contemplate, and practice the Buddhist principle of protection. According to our habitual ego mind, we see ourselves as victims—victims of society, victims of circumstance, victims of a nihilistic universe. When we experience painful negativity, we hide or become aggressive. The Buddhist approach to protection flips that completely. As Buddhists we see how experiencing negativity can actually wake us up. It can cut through our habitual ego mind and show us mind's true nature, which is open, aware, and sacred. When the protectors come toward us, with their fangs and skulls, we greet them with respect and offerings, because we know who they are—the Mind of Great Compassion.
In particular, we will give special attention to Ekajati, Mahakala, and the Mamos, as well as the Kasung practice of protection, with their motto: Victory over war!
If you have any questions about the program, please contact Colleen Roundhill.
Connection Information
We will meet online using Zoom. If you have never done this before, please try it out in advance.

The meeting URL and password will be sent automatically a week prior to the class if you have completed your registration by paying online. Please pay online when you register because we don't have an easy way to collect payment afterwards. If price is an obstacle for you, please inquire about our Generosity Policy.