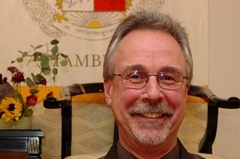 Warriorship and Vulnerability
with Acharya Moh Hardin
The path of the warrior bodhisattva is to step out of our self-centredness into openness, to expand from meness into vastness, to emerge from our cocoon and flutter our beautiful, tender wings. But how can we do this without experiencing vulnerability? We can't!
So let us explore vulnerability and warriorship in this talk and discussion, the personal experience and workability of vulnerability in our lives and on our spiritual path. Here are a few thoughts to consider:
The sociology researcher Brené Brown talks about "The Power of Vulnerability." (TED Talks: Brené Brown, "The Power of Vulnerability, https://www.ted.com/talks/brene_brown_the_power_of_vulnerability#t-1215318, a 20 minute talk that has had 49,369,136 views last time I watched it.) To quote her:
"The folks who felt worthy had the courage to be imperfect. They had the compassion to be kind to themselves first and then to others...and they had connection. As a result of authenticity (authentic presence), they were willing to let go of who they thought they should be in order to be who they are...
Chögyam Trungpa taught:
"The only true elegance is vulnerability."
Everyone is most heartedly invited to this special teaching!
Acharya Hardin likes participants to join the meeting 10 minutes early to say hello.
Join Zoom Meeting
https://us02web.zoom.us/j/590264958?pwd=V2ZmODhCV3phK2syL1g1ei9XTHFCQT09
Meeting ID: 590 264 958
Password: shamatha1
or dial from your phone:
+1 346 248 7799
+1 408 638 0968
We would appreciate any contribution you are comfortable offering when you participate in our special online programming. We know these are very challenging financial times, so please don't feel that you have to contribute in order to participate. We are all taking a hit — both as individuals and at our center. The Austin Sangha/Community does need to bring in money, but we have to balance that with the needs of of its individuals. Solution: we each do what we can.
To offer a teaching gift for the Acharya, please go to:
And be sure to mention in the comments the purpose of your contribution.
THANK YOU SO MUCH FOR YOUR SUPPORT!