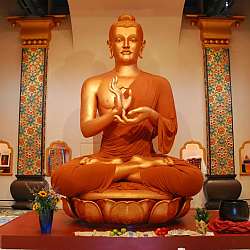 Life and Sutras of the Buddha
with Billy Boyar
We will explore traditional life stories of the Buddha. Then we will turn to the Pali Canon and look at some examples of those sutras in order to appreciate what he taught and how he manifested in these profound Hinayana sutras. Finally, we will turn to examples of the Mahayana sutras to appreciate how his manifestation and teachings came to fruition in the Great Vehicle.
If you have any questions about the program, please contact Colleen Roundhill.
Connection Information
We will meet online using Zoom. If you have never done this before, please try it out in advance.

The meeting URL and password will be sent automatically a week prior to the class if you have completed your registration by paying online. Please pay online when you register because we don't have an easy way to collect payment afterwards. If price is an obstacle for you, please inquire about our Generosity Policy.