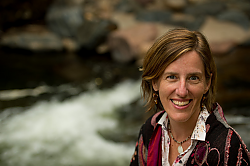 Living in the Challenge with Courage and Compassion
with Holly Gayley
We are living through extraordinary times. Between the pandemic, climate crisis, protests for racial justice, and the US elections and their aftermath, it's easy to get overwhelmed and feel isolated. This talk explores how we can take adversity as the path, allowing us to build the capacity to meet difficulty in our own lives and respond to the social and ecological challenges of our times.
For more, continue with Holly's Tonglen: One-Day Compassion Retreat on Saturday.
Here is a link to a recent article by Holly entitled, "Grief in the Time of COVID: Sharing in Compassion and Resilience"
You will receive zoom information for the program via email upon registration. The registration process allows you to donate any amount you like.

About the Teacher
Holly Gayley is Associate Professor of Buddhist Studies at the University of Colorado Boulder. Her research focuses on Buddhist literature in contemporary Tibet with special attention to gender and ethics. She is author of Love Letters from Golok: A Tantric Couple in Modern Tibet (Columbia University Press, 2016) and co-editor of A Gathering of Brilliant Moons: Practice Advice from the Rimé Masters of Tibet (Wisdom Publications, 2017). She is a senior teacher in the Shambhala Buddist tradition, Holly regularly leads meditation workshops and retreats. https://hollygayley.org/