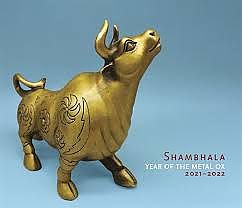 Shambhala Day 2021: The Year of the Iron Ox
Shambhala New Year 2021 will usher in the Year of the Iron Ox.
The Iron Ox has a strong quality of earth, and discovering what is already naturally available to us. The Ox doesn't have to look far to find what is needed. The Ox year is also connected with unity, and focusing on hard work - such as ploughing the fields. We are advised not to be too hasty in Ox years, but to take time for consideration before acting or making decisions. It is said that some efforts planted in the Ox year will take time to harvest and enjoy fruition.
We are currently planning our celebration for this annual event. Check back soon!