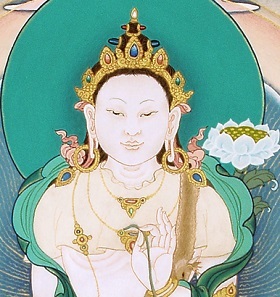 Buddha Nature and Bodhicitta
with Lynn Wolfe
This four-week course asks, what is Buddha Nature? We will explore how that is related to Bodhicitta, the awakened heart-mind and the aspirations to practice the Bodhisattva path for the benefit of all beings. We will explore the teachings to see the Bodhisattva journey through the Paths and Bhumis (stages), as they perfect the virtues called paramitas, on our way to Buddhahood.
If you have any questions about the program, please contact Colleen Roundhill.
Connection Information
We will meet online using Zoom. If you have never done this before, please try it out in advance.

The meeting URL and password will be sent automatically a week prior to the class if you have completed your registration by paying online. Please pay online when you register because we don't have an easy way to collect payment afterwards. If price is an obstacle for you, please inquire about our Generosity Policy.