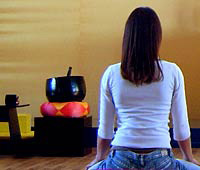 Start Where You Are... and Keep Going
Support for Early Meditation Instruction
The Austin Shambhala Meditation Center offers both initial and ongoing meditation instruction. Once you have received initial instruction you are welcome to participate in our ongoing group, which deals with issues we often face once we actually try to engage in a regular practice.
Initial Instruction:
Every Wednesday at 6:00 PM

No cost
Ongoing Instruction:
Every Wednesday at 6:00 PM. Come to one, some or every week as you wish.

$5 Donation Requested
Description of Ongoing Group:
Have you received initial meditation instruction, gone home and tried it (or not) and now wish you had more support to help you establish a regular practice? Many early meditators struggle with issues such as:
Even though I really want to meditate, it's so hard to make myself do it.
When I try to practice, all I experience is a million thoughts, even worse than before.
I'm completely distracted. I don't think I'm doing it right.
I struggle with sleepiness, emotions or pain. Do you have any suggestions?
I've forgotten a lot of the instructions I was given and could benefit from a refresher.
Please join this informal group if you want support with establishing or revitalizing your meditation practice. You can attend as often you wish.
Activities may include:
Repeated meditation instruction (guided and silent), reflections and contemplations
Opportunity to ask individual questions about your practice
Talk about typical obstacles and strategies for working with them
Discussion about guidelines for a home practice, as well as balancing home and community practice (group meditation, classes, retreats, etc.)
Review of books or readings that address basic meditation practice
Connection Information
We will meet online using Zoom. If you have never done this before, please try it out in advance.
Join Zoom Meeting: https://zoom.us/j/99498459682?pwd=bGtxa2xXRkg1VVBHY1ltSWVYWnR1dz09
If you are unable to join with video you can connect by phone:
One tap mobile: +13462487799,,99498459682#,,,,*723266##
... or dial manually: +1 346 248 7799
Meeting ID: 994 9845 9682
Passcode: 723266
We would appreciate any contribution you are comfortable offering when you participate in an ongoing program. We know these are very challenging financial times, so please don't feel that you have to contribute in order to participate. We are all taking a hit — both as individuals and at our center. The Austin Sangha/Community does need to bring in money, but we have to balance that with the needs of of its individuals. Solution: we each do what we can.
To offer a contribution/donation for an ongoing program, please go to:
THANK YOU SO MUCH FOR YOUR SUPPORT!