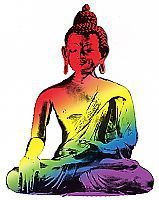 LGBT Dharma Group
Austin LGBT Dharma Group is a Buddhist-oriented group whose purpose is to provide a gay/lesbian/transgender-friendly environment for genuine exploration of Buddhist teachings and how they apply to our lives. The group is meant to foster a safe environment where people can form a non-judgmental community based on openness, curiosity and gentleness, and where we can make friends with ourselves and others in the most genuine way.

We are graciously hosted by the Austin Shambhala Centre. People of all spiritual-contemplative traditions are welcome. You are also welcome even if you're not on a particular spiritual path. We just ask that you have some curiosity and interest in meditation and the Buddhist teachings.

Meetings will begin with a brief meditation instruction and silent sitting practice. After that we will explore a host of topics, including Buddhist teachings, coming out and other sexuality issues, finances, and death and dying (just to name a few).
We would appreciate any contribution you are comfortable offering when you participate in an ongoing program. We know these are very challenging financial times, so please don't feel that you have to contribute in order to participate. We are all taking a hit — both as individuals and at our center. The Austin Sangha/Community does need to bring in money, but we have to balance that with the needs of its individuals. Solution: we each do what we can.
To offer a contribution/donation for an ongoing program, please go to:
THANK YOU SO MUCH FOR YOUR SUPPORT!