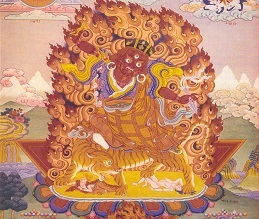 Sadhana of Mahamudra
The Sadhana of Mahamudra is an important text composed by the Vidyadhara (Chögyam Trungpa Rinpoche) and is a turning point in his presentation of the buddhadharma in the West.
The Sadhana of Mahamudra is one of the first practices that the Vidyadhara encouraged his students to do, and has a number of important characteristics. This sadhana is a binding factor for our community because students at all levels of practice can participate and receive a true experience or understanding of the spiritual path. Its essential teaching is that the nature of the practice itself undercuts any ideas of spiritual materialism. The practice consists of meditation and chants, and lasts about an hour.
Everyone is welcome to attend!
Note: Each month on Monday evenings we will rotate the following practices via zoom: Sadhana of Mahamudra, Shambhala Sadhana, Tonglen, and White Tara. Please go to our website to see which of these programs is offered on a particular Monday evening.
Zoom Meeting

One tap mobile
+13462487799,,89800773421# US (Houston)
+16699006833,,89800773421# US (San Jose)
We would appreciate any contribution you are comfortable offering when you participate in an ongoing program. We know these are very challenging financial times, so please don't feel that you have to contribute in order to participate. We are all taking a hit — both as individuals and at our center. The Austin Sangha/Community does need to bring in money, but we have to balance that with the needs of its individuals. Solution: we each do what we can.
To offer a contribution/donation for an ongoing program, please go to:
THANK YOU SO MUCH FOR YOUR SUPPORT!