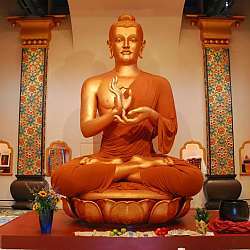 Stages of Meditation on Emptiness
with Billy Boyar & Rita Ricardo
The development of the Buddhadharma as it is passed down to us through Buddhist lineages is said to parallel or be repeated by our own spiritual development as individuals on our own spiritual path. Over the centuries, learned Tibetan masters examined the debates that have occurred in the long history of the lineages going back to the Buddha himself. But instead of seeing the debates in terms of disputes, they asked the question, what can we learn from each other and how does this wisdom relate to our own path?
This way of understanding the wisdom of the lineage is presented in the book Contemplating Reality by Andy Karr, which is based primarily on the classic text by Khenpo Tsultrim Gyamptso, Progressive Stages of Meditation on Emptiness. Karr's book makes the classic test more accessible and provides many helpful contemplation practices. Using Karr's approach, we will develop our understanding and experience the stages of egolessness, emptiness, and luminosity, as taught by historically evolving Buddhist schools.
If you have any questions about the program, please contact Colleen Roundhill.
Connection Information
We will meet online using Zoom. If you have never done this before, please try it out in advance.

The meeting URL and password will be sent automatically when you register for the class. Please pay online when you register because we don't have an easy way to collect payment afterwards. If price is an obstacle for you, please inquire about our Generosity Policy.