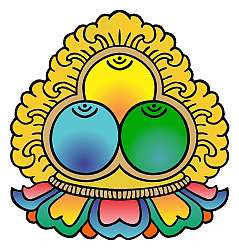 Where Do We Go From Here? Relating to the Three Jewels
with Lauren Newton & Miriam Klotz
The past few years have been a tumultuous journey – both in our world (a pandemic; social and economic injustice) and within Shambhala (disruptions related to issues of sexual misconduct, revelations about organizational mismanagement, etc.). Although this process has been painful, it has offered a healthy opportunity to look more deeply at the choices we want to make regarding our own spiritual path, as well as the community we want to relate with.
The abrupt upheaval of much that we took for granted has the potential for great awakening if met within the framework of Basic Goodness and Great Eastern Sun vision.* We do not have to make quick decisions; we can watch our own reactivity; we can listen to our heart; and we can meet all situations and people with openness and lovingkindness.
In this gathering we will examine these sensitive issues within the framework of the three jewels:
The buddha/teacher
What obstacles have arisen that have led me to examine my relationship with a teacher?

What are my choices, and what considerations can help me make decisions?

How do the notions of guru and lineage impact my decisions?
The dharma/teachings
Have recent situations changed the way I relate to the dharma (the core teachings)?

Am I interested in exploring how dharma (the nature of reality) is taught in a variety of traditions (e.g., Shambhala and other Buddhist approaches? Buddhism and other spiritual approaches?)
The sangha/community
What are my fears about separations within our community?

What questions do I have about how our local and international organization are dealing with these situations at this time?
This session will be conducted more as a sangha gathering, rather than as a class teaching or a program. Our goal is to provide an open forum where people can share their concerns, ask questions, hear what others are thinking and wondering, contemplate important points, and have group discussions. We believe that the simple act of gathering, joined with listening and speaking from the heart, will be healing in itself. We probably won't walk away with new solutions, but we can show up and try to hear one another without projection and rejection. The idea of Basic Goodness and Great Eastern Sun vision is not that we are all the same. It's that everything and everybody can be held in the space of compassion and luminosity.
*Note: The Great Eastern Sun illuminates the way of discipline for the warrior. It is the expression of true human goodness, based not on arrogance and aggression, but on gentleness and openness. It is the way of the warrior, based on appreciating ourselves and our world, so it is a very gentle approach.
Contact person: Lauren Newton <[email protected]>