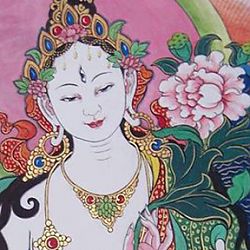 White Tara in the 6 Realms: Bringing Compassion to the Bardos of Everyday Life (Online)
with Susan Chapman
In this class we will explore how the teachings on Tara, the six realms and the bardo teachings of Tibetan Buddhism apply to everyday life. A bardo is a short or long period of transition, sudden groundlessness when normal life seems to disappear. Tara, the female deity who symbolizes fearless compassion, can inspire stability at times like this. In particular, she arises in response to the suffering of the six realms, offering a merciful exit to our confusion.
The format for this class will include a presentation, contemplative dialogues and guided meditations to offer compassion for ourselves and others.
Attendance Information
All times listed are Central Standard Time. Class will be held online via zoom - connection information will be sent upon registration.
If you have any questions about the program, please contact Lauren Newton.
If price is an obstacle for you, please inquire about our Generosity Policy.
About the teacher: Susan Chapman began studying and practicing Buddhism with Trungpa Rinpoche in 1974. Since then she received a M.A. in Buddhist and Western Psychology, worked with domestic violence, was a family therapist and a single mother for 12 years. (Her son now lives with his wife in China). In 1988 she moved to Alaska, met her husband, Jerry, and began 20 years of mahamudra study with Thrangu Rinpoche, which included 9 years of retreat at Gampo Abbey. In 2008 she and her husband moved to the Vancouver area where she served as a shastri and an acharya for Sakyong Mipham Rinpoche. She also taught Karuna Training. Her book, The Five Keys To Mindful Communication, was published in 2012. She retired from teaching in 2020 after being diagnosed with an aggressive breast cancer which is now in remission.