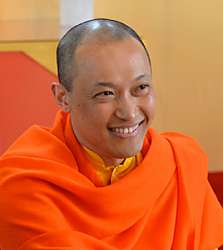 Discussion Group for the Sakyong's Mahayana Classes (Online)
with Shastri Larry Higgins
This is the first of three meetings for a discussion and study group for students who have taken the recent "Foundations of Compassion and the Bodhisattva Vow" online course with the Kongma Sakyong Mipham Rinpoche. We will review selected material from the recommended readings and have an opportunity to ask questions and discuss topics from the class.
This discussion group is offered at no cost (although donations would be much appreciated!) Shastri Higgins is generously donating his time - but there will be an opportunity to offer a heart gift for those who choose to do so.
Additional meeting dates and times for this discussion group are to be determined.
Please note: Though this discussion group is for students who have already taken this specific class with the Sakyong, we do plan to offer future study and discussion groups for other upcoming classes. If you are interested in taking online classes with the Sakyong, you can find more information on his upcoming teaching schedule at https://sakyonglineage.org/sakyong-miphams-teaching/2022-teaching-schedule/. Interested students are asked to please write to the Sakyong Lineage Support team at [email protected] with any questions or requests to register for upcoming classes.