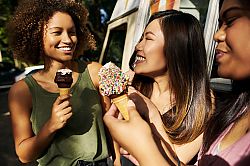 Autumnal Equinox / Ice Cream Social / Harvest of Peace Kickoff
The Harvest of Peace is one of four annual Nyida Day celebrations in Shambhala culture. Each of these holidays mark the turning of the seasons, hence the name Nyida Day (Nyi = sun and Da = moon).
It is an opportunity for our community to gather, enjoy good food and drink, and celebrate the richness of our local cultures and heritage. The theme of appreciation includes all of these things, and especially the goodness of our bond as a community.
The Harvest of Peace is also an important and appropriate time in the yearly cycle to raise funds to support our local Austin Meditation Center and its initiatives.
Please join us at noon after the Sunday open meditation, as we try to cool this endless summer off with an Ice-Cream Social! This will be the first of several events planned throughout the autumn season.
For further information please contact our Director of Culture and Decorum Lynn Wolfe.