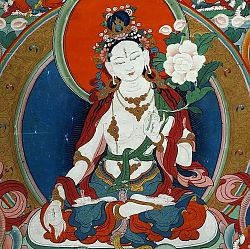 Protected by the Mind of Great Compassion: A Mahayana Weekend
with Billy Boyar & Lauren Newton
In this weekend retreat we will immerse ourselves in the vast Mahayana. We will explore the cultivation of the heart, from its roots in the four immeasurable qualities of early Buddhism to the genuine heart of sadness that flowers into bodhicitta, the Mind of Great Compassion. At the same time, we will contemplate the meaning of "protection." In the beginning, we must protect our own fledgling hearts from the onslaught of all kinds of deceptions, hindrances and negative emotions, such as anger, desire, arrogance and envy. But as the genuine heart of compassion expands, it becomes the protector. In the presence of love, the deceptions of ego suddenly look absurd. Finally, standing on the bridge of Mahayana, we will examine the Vajrayana understanding of how the negative energy of painful experience in our lives can be transmuted by compassion into the protectors of our awakening: Bodhisattvas with fangs.
PLEASE BRING A LUNCH.
Please pre-register below so that we may properly prepare. Payment is not required at the time of pre-registration. If price is an obstacle for you, please inquire about our Generosity Policy.
If you have any questions, please contact Darren German.