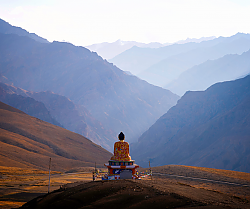 Letting Go into our Inherent Nature: Passage to Enlightenment - A Regional Weekthun Retreat
with Betsy Pond
Letting go is the process that cuts through the earnest attempt to fit body, speech and mind into something "better," allowing meditation to arise in the lap of inherent worthiness. Letting go is the gentle art that seduces us into wakefulness.
What to expect
A meditation retreat (weekthün) provides the setting and structure for cultivating a settled
mind. Our world-weary mind receives some much-needed care. To that end, everything in the
retreat schedule is a designed to nurture a settled mind and uncover our innate human
sanity—sanity that exists regardless of daily chaos and stress.
The retreat will include sitting and walking meditation, as well as working with silence. There
will be talks, study and an opportunity to meet with the retreat leader.
A vajrayana shrine will be available for those practitioners.
Retreat leader
Betsy Pond is happily retired from her years of work as a clinical psychotherapist and is settled into continued studying and practicing what it means to be fully human. She is deeply grateful for the guidance and patience of Sakyong Mipham Rinpoche and Chogyam Trungpa Rinpoche. A former director of the Shambhala Center of San Antonio and a student of Shambhala Buddhism since 1990, Betsy has been remarkably fortunate in having access to a robust series of trainings and retreats. She was a Shastri (a senior teacher in the Shambhala Buddhist lineage of Chogyam Trungpa Rinpoche and Sakyong Mipham Rinpoche) for ten years, which was deep heart-training for being a grandmother.
Retreat location
Auspicious Cloud Retreat Center
Vegetarian, vegan, and gluten free meals will be available for those who let us know ahead of time.
This year, the retreat will proceed even if we have a small number of participants. Space may be limited; please register early to help us manage space limitations.
This program is open to everyone: there are no prerequisites.
Scholarships are available for center members - please contact Susan Bird Singh with questions or for further information.