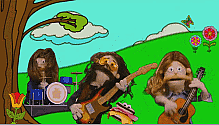 Harvest of Peace Finale Celebration
Thank you to everybody who contributed to our annual Harvest of Peace fundraiser. If you have not yet had a chance to contribute, information is included below.
So far, we have collected $10,000, which is only half of our goal. An anonymous donor has agreed to give us a boost by matching any amount, up to $3,000, that is contributed between today and Sunday. For those who have already contributed, every bit more that you give will also be doubled.
In appreciation and in celebration, we hope you can ALL join us for a delicious one-bowl lunch at noon just after our morning sit. Everybody is welcome, including families, whether or not you are able to contribute to the fundraiser. There is no charge for the meal. We just want to gather a nice big crowd and celebrate. If you haven't been to the Center in a while, we would so love to see you as well!! To add to the cheer, John Payne's band (also includes Michael Finney) will entertain us in the Main Shrine Room with Beatles music.
Looking forward to seeing all of you!!
ABOUT OUR 2023 HARVEST OF PEACE FUNDRAISER

Each fall our local center raises funds to support our buildings and grounds. This year's season of giving is Sep 13-Nov 12 with a goal of $20,000, a small amount given the size of our lot and the infrastructure for three buildings! You can support this fundraiser through one or multiple gifts during this season, and/or through raising your monthly dues, which is an ongoing gift and makes the biggest difference over time. OUR CENTER THANKS YOU BEYOND MEASURE!