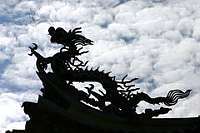 Shambhala Day Year of the Wood Dragon
Shambhala Day marks the beginning of the new year, and is the most important holiday for the Shambhala community.
Shambhala Day and the entire Shambhala New Year season is a time for us to reflect on the year that has passed, and to take an opportunity for fresh starts.
For further information please contact our Director of Culture and Decorum Lynn Wolfe.