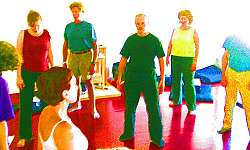 Mudra Space Awareness
with Shastri David Stone
From sitting practice to post-meditation to engaging in life more fully, Mudra Space Awareness has a profound effect on those who practice it. A mind/body transformation method inspired by Tibetan Monastic dance, the practice combines intense physical training with focused sensory awareness to unlock our inherent freedom and create a radical shift in our understanding of the mind/body relationship to space. Initially presented as theater training to some of the foremost theater innovators of the '70s, Mudra has since been applied, both as an adjunct to formal sitting meditation, and increasingly as a means for developing meditation in action.
David Stone
has been practicing and studying Shambhala Buddhism since 1974 and currently serves as a
shastri
and teaches at the Shambhala Meditation Center of Chicago. He began practicing Mudra Space Awareness in 1975 in Boulder and was Co-Director of the Mudra Theater Group from 1978 to 1983. During his years in Mudra he taught the practice and worked under Chogyam Trungpa Rinpoche in the production of the plays written by Rinpoche. He has taught the Space Awareness practice through numerous Shambhala Centers in North America and Europe.
David has lived in Chicago since 2003, where he has a private practice in Five Elemen
t
Acupuncture.
More information about Mudra is available at The Mudra Institute, http://www.mudrainstitute.net/