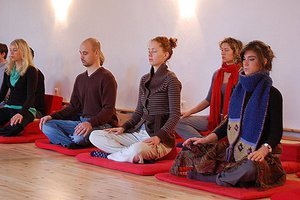 Young Meditators Group
The Young Meditators Group welcomes anyone in Austin between 18 and 39 who is curious about or committed to meditation and community. We insist that you come as you are - with lots of meditation experience or none, wearing sweatpants or a three-piece-suit, feeling talkative or quiet, upbeat or grumpy.
YMG
meets twice monthly to learn about and practice basic meditation techniques, to explore ways to apply mindfulness to our lives off the cushion, and to discuss our experience of the world with one another.

Please join us at the Austin Shambhala Center on the first and third Thursdays of each month from 7-8:30 p.m.

Connection Information
We will meet using Zoom. If you have never done this before, please try it out in advance.
Join Zoom Meeting: https://us02web.zoom.us/j/313170377
Meeting ID: 427 746 710

If you are unable to join with video you can connect by phone:
One tap mobile: +13462487799,,427746710#
Dial by your location: +1 346 248 7799
We would appreciate any contribution you are comfortable offering when you participate in an ongoing program. We know these are very challenging financial times, so please don't feel that you have to contribute in order to participate. We are all taking a hit — both as individuals and at our center. The Austin Sangha/Community does need to bring in money, but we have to balance that with the needs of of its individuals. Solution: we each do what we can.
To offer a contribution/donation for an ongoing program, please go to:
THANK YOU SO MUCH FOR YOUR SUPPORT!