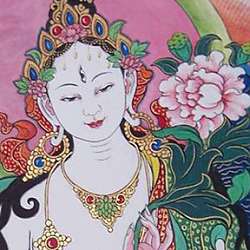 White Tara Practice Session
Please join us for the healing, soothing practice of White Tara.

Emanated from the tears of the compassionate Avalokiteshvara, peaceful White Tara is said to witness the suffering of beings through her seven eyes, and she soothes their fear, calms their anguish, heals their suffering, restores their health—both individual and communal—and extends their lives.

This is a lineage practice particularly relied upon in times of domestic and community turmoil and disharmony, or in the midst of attacks on health and longevity.
We will do the short daily practice of White Tara composed by the Sakyong. This practice is open to any practitioner who has taken refuge in a Buddhist lineage. The lung will be provided at the beginning of the session, and the text will be made visible on the site for those new to White Tara practice.
Prerequisite: Group practice is open to all. To practice on your own, or to purchase the text, you need to have received the lung and have taken the Refuge Vow. Persons interested in studying, practicing and receiving this lung for individual practice can sign up for the class "White Tara: A Soothing Practice for Difficult Times" at Shambhala Online.

Note: Each month on Monday evenings we will rotate the following zoom practices: Sadhana of Mahamudra, Shambhala Sadhana, Tonglen, and White Tara. Please go to our webpage to see which of these programs is offered on a particular Monday evening.
One tap mobile
+13462487799,,89800773421# US (Houston)
+16699006833,,89800773421# US (San Jose)
We would appreciate any contribution you are comfortable offering when you participate in an ongoing program. We know these are very challenging financial times, so please don't feel that you have to contribute in order to participate. We are all taking a hit — both as individuals and at our center. The Austin Sangha/Community does need to bring in money, but we have to balance that with the needs of its individuals. Solution: we each do what we can.
To offer a contribution/donation for an ongoing program, please go to:
THANK YOU SO MUCH FOR YOUR SUPPORT!