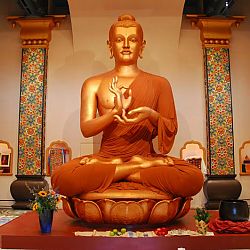 The Mahayana Sutras (on-site and online)
with Billy Boyar
The Mahayana is vast, profound, and transformative. This movement—this "vehicle"—is based on the Mahayana Sutras. There are many of them--dozens—but what do we know of them? We had a class on the Life and Sutras of the Buddha based on the early Pali Canon teachings of Gautama Buddha, but what do we know of how the Buddha manifests and what he actually teaches in the Great Vehicle sutras?

All are welcome. If you are new to classical buddhadharma, you could prepare ahead of time by reading a bit about the life of the Buddha and his early Pali Canon teachings. (You know, ask Siri or Google or Alexa.) Mahayana topics can be challenging, but please don't be intimidated. All Bodhisattvas heard these teachings for the first time in some eon.

We will survey six Mahayana Sutras, selected both because they typify various kinds of sutras and because they are profound in their own right.

In our usual style, we will combine meditation, a chant, talks, contemplations, and conversations.
Attendance Information
Class will be held on-site in the Main Shrine Room. For those who are uncomfortable with attending in person, it will be possible to take the class via Zoom. Please let us know if this is your preference by contacting Colleen Roundhill.
If you have any other questions about the program, please contact Colleen Roundhill.
If price is an obstacle for you, please inquire about our Generosity Policy.