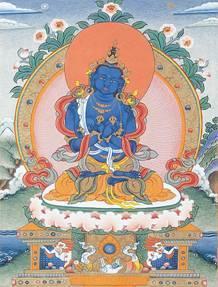 Buddhist Investigations: The Foundational Yana
with Billy Boyar & Carolyn Bottler
Buddhist Investigations rotates the wheel of dharma through the three yanas of the path—the Hinayana, the Mahayana, and the Vajrayana—taking one yana every six months. We have just completed a six-month study and practice of the Mahamudra, the highest teaching of the Kagyu Lineage. For our next six-month practice and study, we will delve into the Hinayana, our profound foundational teachings. This course of study and practice is open to all—beginners as well as advanced students. Trungpa Rinpoche famously admonished advanced students: "Never forget the Hinayana!"
Classes meet on the SECOND SATURDAY of each month from 10:00am-12:00pm, beginning on December 9, 2023.
This approach, monthly classes, allows you the space to absorb and integrate each lesson. Our monthly gatherings will dive deep into each topic. This thoughtful approach empowers you to apply these teachings practically, making them a seamless part of your path.
Sign up for all 6 classes for a discount. If you are registering for an individual class, note the date in the notes section when you register.
Here are our dates, topics and some suggested resources:
December 9th, 2023, Investigation 1: Gautama Buddha and the Four Truths ("The Awakened One," Kohn; "Buddha," Armstrong)
January 13th, 2024, Investigation 2: The Pali Canon ("In the Buddha's Words," Bhikkhu Bodhi)
Feb 10th, 2024, Investigation 3: The Five Skandhas and the Samskaras ("Indestructible Truth," Ray)
March 9th, 2024 - Investigation 4: Valid Cognition and Pure Perception ("Freedom through Correct Knowing," Namdak
April 13th, 2024 - Investigation 5: The Wheel of Becoming and Dependent Arising ("Wheel of Life," Dalai Lama –
May 11th, 2024 - Investigation 6: Revulsion, Aloneness, and the Vow of Refuge ("Heart of the Buddha," Trungpa
Please pre-register below so that we may properly prepare. Payment is not required at the time of pre-registration. If price is an obstacle for you, please inquire about our Generosity Policy.
If you have any questions, please contact Darren German.